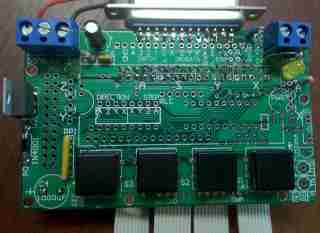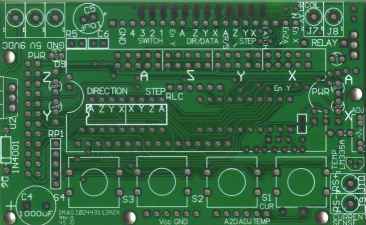 This PCB (board only!) has a place for and does just about everything! Most people will use these features:
DB25 connector at the top for connecton to PC Parallel port. Pin headers also support connection to whiteboard, or use as an Arduino "Shield" board for educational, embedded, or robotic applications.

Low cost ribbon cables (from underneath) which terminate in standard PMinMO plugs at the drivers

5 volt regulator on the left (the big capacitor is installed underneath in this picture)

Pulse / Demo / Test option which replaces the PC as the normal source of control signals with a simple variable speed STEP pulse generator and DIRECTION control to demonstrate motor operation and test drivers.

Up to 4 switches (can be limit switches or tactile switches) and a pull up ("RP1") for them so the parallel port can be used to read them.

Relay coil driver on the top right with indicator LED.

Space for axis step indicator LEDs, on board PIC for intelligent test and control, serial interface, over current and temperature sensors.

This well made PCB is documented and supported for you to assemble along with the parts kit options you choose or your own parts, using your soldering iron and solder. The assembled sample in the picture includes the optional DB25 connector and cable for connection to a PC parallel port, the +5 volt power regulator, and a relay driver and tactile switches from local parts.

Video Assembly Playlist:
http://www.youtube.com/watch?v=u5bMxvA3-Y0&list=PLI15PZTw-OdWB6CF-BK3OXAmdMG2iqnL-&index=1

P.S. This board also supports many other uses
level: Medium.
You may also be interested in:
416074 *Also supports 6064 driver:
416015 *Also supports Linistepper driver:
416025 +5V Power supply parts:
416028 Alternate use: Supports an LCD Panel:
416020 Cable for 1 driver/axis (short):
416014 Cable for 4 drivers / 4 axis:
416036 Connector/cable to PC parallel port:
416016 Pulse/test driver w/o PC using:
416068 Relay driver parts:
user @3.235.188.113, your shopping cart is empty.
James Newton's MassMind.org offers Kits, Books, Gadgets, Cables, Services, and these Stepper Drivers: